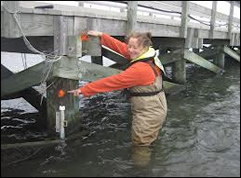 Sea Level Rise and Rehoboth Beach and Cape Henlopen State Park, DE
Rehoboth Beach is a popular tourist destination, partly due to its proximity to DC, MD, VA, and PA, high water quality, and because it has less commercial development than nearby Ocean City, MD.
Adjacent to Rehoboth Beach Boardwalk is Cape Henlopen State Park. Situated on over 5,000 acres, the park has hiking trails along beach, coastal pine forest, and tidal salt marsh. Notably, a section of the park is located in Lewes, DE.
---
Sea Level Rise Projections
Step 2. Use the graph below to predict how many feet global sea level will rise by 2100. Record this information in the Online Sea Level Investigation Guide you downloaded in Step 1. This will help you predict the impacts of sea level rise on Rehoboth Beach and surrounding areas on the next page.
A few things about the graph:
You'll have to decide which projections you think are relevant.
Note that yellow and blue lines do not take into account water from ice melting (a major contributor to sea level rise).
The graph is based on sea level rise projections made in 2012.